OUR LADY STAR OF THE SEA, CATHOLIC CHURCH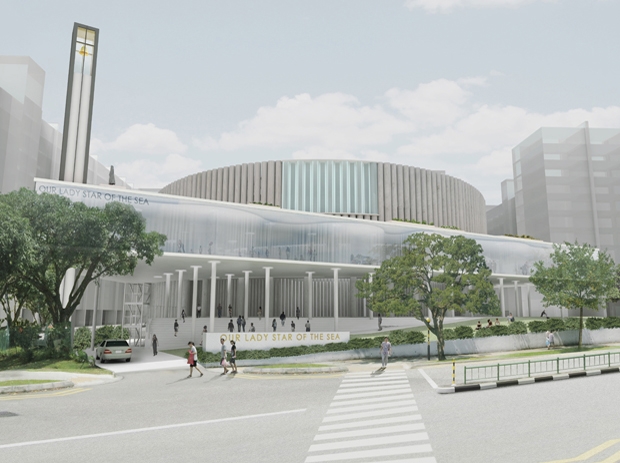 Fact Sheet
Project:
OUR LADY STAR OF THE SEA, CATHOLIC CHURCH
Status:
COMPETITION FINALIST
Client:
OUR LADY STAR OF THE SEA
Budget:
15 MILLION
Site:
YISHUN, SINGAPORE
Program:
CATHOLIC CHURCH
Credits
Partners in charge:
-
Team:
-
Collaborators
Structure:
FONG F C PTE LTD
Sustainability:
P A C
MEP:
INTERCONSULTANTS
Cost analysis:
JIA QUANTITY SURVEYORS & PROJECT MANAGERS PTE LTD
Central to our proposal is the circular plan as an archetype for a place of worship. Replacing the more common and conventional directional "basilica" type, the return to the archetypical circular church reestablishes itself as a Public building for the diverse and multi-cultural community of Yishun; forming an expression of centrality within the dense, gridded residential estate.
Typologically, the circular plan formalises the sanctuary, altar and tabernacle as the "centre of worship" where tiered pews radiates from. Even with a seating capacity of more than 1200 people, this arrangement allows for an unobstructed view of all liturgical events taking place on the sanctuary; providing each worshipper an experience of solitude. Multiple naves-like axes radiates from the sanctuary to the periphery of the worship hall where a gentle ramp connects all entrances, allowing worshippers to enter the worship hall from all directions.
A single storey planar block intersects the cylindrical worship hall forming not only the second level ancillary functions such as, child care centre, meeting and classrooms but also three lecture rooms that extend and overlook into the worship hall, providing an additional 200 seating to the congregation. The planar block provides the site with maximum shelter creating a comfortable environment for the worshippers and the public to gather. During major festivities, liturgical events and activities can also extend out into the large covered plaza regardless of rain or shine.
The proposal exhibits the essence of a place of worship, a catholic church, through the integration of its internal organisational principles and its formal expression. The idea of the circular church forms a centre of worship for the parish not only within the worship hall but also in the city.