DAMANSARA CIVIC ARENA, KUALA LUMPUR, 2010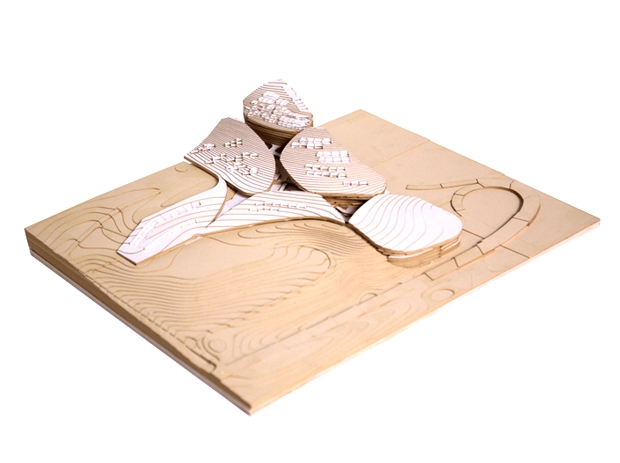 Fact Sheet
Project:
DAMANSARA CIVIC ARENA, KUALA LUMPUR, 2010
Status:
Concept Design Commission
Client:
Newfields, Malaysia
Budget:
N/A
Site:
Jalan Duta, Damansara, KL
Program:
Civic / Retail / Commercial / Entertainment / Residential
Credits
Partners in charge:
-
Team:
-
Collaborators
Structure:
N/A
Sustainability:
N/A
MEP:
N/A
Cost analysis:
N/A
Located at the foot of a small hill along Jalan Duta, one of the busiest highways in Kuala Lumpur, the task to design a "Multiplex" (an entertainment, retail and commercial complex) is inevitably set against the presence of a sizable cluster of private bungalows and villas located on the higher grounds surrounding the site. Not only will the scale of such developments oppressively deprive the surrounding residents of privacy through overlooking issues; the combined infrastructural demands of a commercial hub and the existing highway predetermines the extensive provision of roads and carparks which will cause long-term disturbances, such as noise and air pollution, to further devalue the surrounding residential properties.
To allow for the coexistence of the Multiplex and the villas, a new ground is proposed to extend the hill surface upwards towards the highway – creating a new "hillside" for the continuation of villa plots. This new ground and villas are therefore contextually in-keeping with the existing environment even though they are part of the residential component of the multiplex.
The new ground is structurally supported by "towers" consisting of public orientated programs such as, offices, conference, entertainment and retail, which fills up the crevice formed between the new and the existing ground – forming a commercial "cliff" face against the highway that guarantees maximum advertising visibility. These programs, organized into separate blocks, form cave-like open air public spaces in between them – creating the spaces that allow for the interaction between the public and the private and between visitors and residents.
The proposed strategy allows for the development of the Multiplex without compromising its residential neighbours. The proposed hillside surface which forms the green roof of the multiplex creates the necessary buffer and barrier between the hustle and bustle of commercial activities below and the serene, lush villa community above.