AL ANSAR MOSQUE, ADDITION AND ALTERATION, SINGAPORE, 2011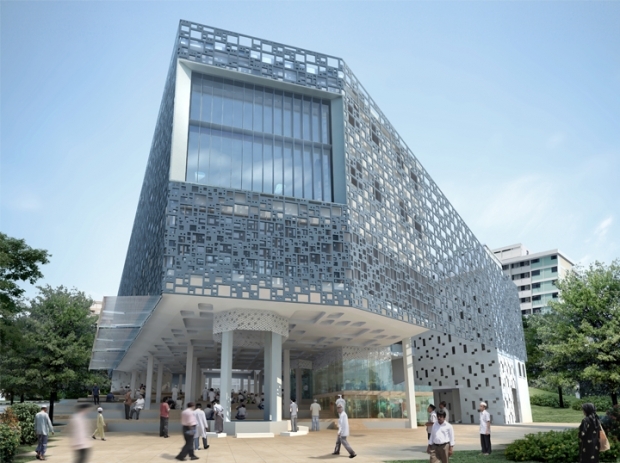 Fact Sheet
Project:
AL ANSAR MOSQUE, ADDITION AND ALTERATION, SINGAPORE, 2011
Status:
COMPETITION (FINAL STAGE)
Client:
MAJLIS UGAMA ISLAM SINGAPURA (MUIS)
Budget:
7.5 MILLION
Site:
BEDOK AVENUE 1 AND CHAI CHEE STREET, SINGAPORE ; SITE AREA / GROSS FLOOR AREA: 3165.2 m2 / 4430 m2
Program:
MOSQUE/ LEARNING/ AUDITORIUM/ COMMUNITY FUNCTIONS
Credits
Partners in charge:
-
Team:
-
Collaborators
Structure:
N/A
Sustainability:
N/A
MEP:
N/A
Cost analysis:
N/A
The proposed design for the addition and alteration to AL ANSAR MOSQUE aims to strengthen its presence as the centre of the community both formally and spatially.
Alongside its primary function as praying spaces, mosques are traditionally community centres and gathering places of the city. This dual provision to the city is best represented by the courtyard building type as exemplified by the first mosque in Medina. The central court allows entry from all directions, establishing itself as the centre, while serving as flexible spaces for diverse events to take place.
Our design adapts this fundamental principle to the contextual, topographical and environmental conditions of the site. To ensure that Jemaahs and other members of the community can approach and enter the mosque from all directions, a layering strategy is proposed to negotiate the sharp level changes of the site. The existing 1st and 2nd floor is collapsed into a single terraced landform consisting of large slabs for prayers. This not only extends the main prayer hall to the surrounding landscape but also provides older folks with an ease of access to the higher levels. The existing 3rd floor forms a second 'ground' which is connected to the HDB ground level to its North via a ramped bridge, creating a covered access route between the mosque, HDB and the public car park.
A naturally ventilated, shaded 'urban room' is formed on the ground level creating a casual space that can be flexibly transformed from praying spaces to accommodate a multitude of community events such as charity drives, residents committee gathering etc. With the increased possibility for community participation, the new AL ANSAR MOSQUE reaches out by serving as a COMMUNITY FORUM.